This week's featured blogger is Bri, from Eco Baby Mama Drama! Let's learn a little more about her and her blog!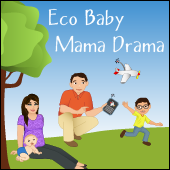 How did you decide on what to name your blog? I knew I wanted something with 'eco' and 'baby' because my focus when I started was baby products as I was a new mom again and my best friend actually came up with the name and it made me laugh so I ran with it!
Tell us a little about you...
Tell us 5 of your favorite things, and 5 of your least favorite things.
1. My 3 boys (even though they drive a mama crazy!)
2. Being a stay at home mom
3. Sweets (salty is yummy too!)
4. Watching Law shows
5. Finding a great deal
1. Mean people
2. Rude people
3. Liars
4. Scalloped Potatoes
5. A huge store that starts with W
When and why did you start blogging? I started my own blog in April after being a contributor on another blog for quite awhile, I wanted to expand the things I was able to write about and what better way to do that then start my own blog and have full control of the topics
What do you blog about? Pretty much anything that is family friendly, I love environmentally friendly products for reviews especially.
What does your family think of your blog? Do they read it? My immediate family thinks it is great and support me a lot, my extended family doesn't really get it. My 13 year old follows me and reads every post (he is an email subscriber!) and my husband proof reads for me sometimes but my extended family doesn't really follow me.
When do you find the time to blog? I get about a 30 minute window daily between nap time starting and my oldest arriving home from school so finding time is a challenge
What has been your biggest blogging challenge? I struggle with every post, I am a very insecure writer and never know if my posts are too long, too short, or just not interesting. I am also very tech challenged so simply watermarking a picture is difficult for me.
What advice would you give a new blogger? Network, make other blogging friends, they are invaluable
What widget or feature could you not live without? Since I am tech challenged I don't really use a lot of widgets honestly
What are your favorite blogs to read? I used to read tons of blogs however I rarely am able to now as any free time I have I spend working on my own blog